dogfootblues wrote:would a noise suppressor work for me tele/p-90 loud as fuck hum issue as well. If so, is there any better pedal than the rest
Hey man,
just to reiterate ...
i know you are trying to take opinions from a large sample pool to get all your options
but:
1. the ISP Decimator IS a "noise gate" ... they kinda say it isn't, but if you look, they actually do say it is a gate ... just a fancy noise gate, with some algorithm or something that randomly kills the sound at intervals or ???
Any way. that certainly IS an option ... but know that generally with noise gates, the functionality is that when the sound output from your guitar falls below a certain threshold, the device kills the instrument output signal and replaces it with "nothing". Since your signal has been replaced with "nothing" there is no hum, because the hum is caused by intereference created by your home's AC electricity entering your pickups and then traveling out the output jack and through your guitar cable to the amp. Using an ISP Decimator will work, and apparently they work reasonably darn well, but given that it is SOME sort of gate (possibly one that is always on at intervals) it certainly is affecting your sound in some way as well. I've seen some posts by folks saying it killed the end of their notes, or chopped off their sustain (which, reasonably, is what you would expect from a noise gate, even a really fancy one) ...
2. the problem with 60cycle hum is pretty fundamental. If you look in to it deeper, the issue is AC current itself. It operates at 60 hz (60 cycles per second).
wiki wrote:Mains is the general-purpose alternating-current (AC) electric power supply.

[...] The two commonly used frequencies are 50 Hz and

60 Hz

.

Wiki: "Mains Electricity"
Your pick-up is "picking up" the frequency of the electricity running through your house, right on up to your guitar amplifier. And that dang light.
Didn't you say your amplifier, and several other pieces of equipment, were actually wired through the light socket itself? This is one of those old lights with a socket at the bottom?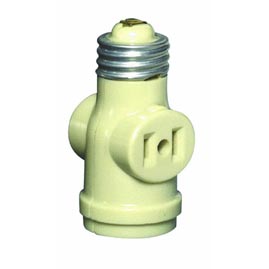 Also how old is this house, and is the eletricity even grounded?
Is it a 2 prong outlet?
All these issues would amplify the effects of 60cycle hum in your amazing super-awesome P-90 pickups (i loved mine while i had em) since all these factors play in to more electricity just wantonly floating around for your P-90s to "feed" on.
Pictures on
how to shield the guitar
can be found here, but the process probably isn't to be taken lightly. You also would want a high quality (well shielded), short (to reduce the length of cable possibly exposed to interference), guitar cable.
You also need to think about all the above metioned (and more) implications of the circuitry in your practice pad, and how best to shield your guitar pickups (and all your expensive equipment) from the nasty unintended consequences of electricity. (like removing the ground pin on your amp, and plugging it in to an ungrounded - 2 prong - outlet, upside down, even
) ...
and think one more time about just how "good" that ISP pedal must be in order to strip out the sound of constant interference from the very source of sound in your guitar itself. In other words, there must be
some
unintended tonal\sonic consequences of stripping out the bad sound right from the very source of your good sound. It can't be too good to be true. Can it?